Discover Collegium Vocale of Saint Louis
September 29, 2017
Sunday, October 27, 2019 – 3:00 p.m.
"Shakespeare Text in Musical Dress"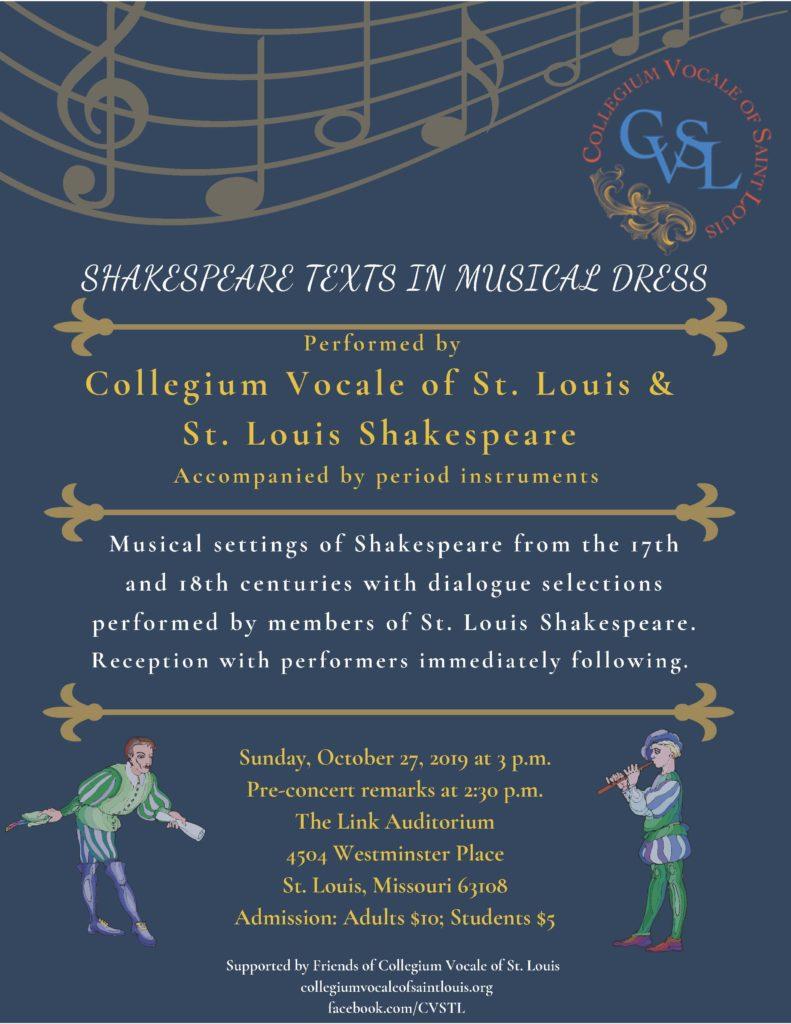 Link Auditorium, 4504 Westminster Avenue
Map – [https://goo.gl/maps/DM6B5ptA3oUCSVLf8]
The Collegium Vocale of St. Louis, in collaboration with St. Louis Shakespeare, is proud to present "Shakespeare Text in Musical Dress" a program of musical settings of Shakespeare texts from the later 17th and early 18th centuries.
The program will be offered on Sunday, October 27, 2019 at 3:00 p.m. at the Link Auditorium, 4504 Westminster Ave.  Dr. Bruce Carvell, Artistic Director of the Collegium Vocale of St. Louis, will give introductory remarks before the concert, and a reception with a chance to meet the performers will follow immediately after the concert.  Admission is $10 for adults, $5 for students.
Featured will be musical settings of texts from Macbeth, Cymbeline, and The Winter's Tale, among others, by composers such as William Boyce, Maurice Greene, and several less well-known composers.  Some of these pieces were used during actual productions during the period following the re-opening of the theatres in England after 1660, while others were independent pieces written as a composer's response to the texts.
The singers of the Collegium Vocale will be accompanied by period instruments, including violins, cello, theorbo, and harpsichord.  In addition, we will be joined by members of St. Louis Shakespeare, who will perform excerpts from the plays which will surely enhance the audience experience.
This is the Collegium Vocale's first opportunity to perform in the historic Link Auditorium.  This magnificent space, designed for the Wednesday Club in 1908 by noted architect Theodore Link, features a splendid acoustic along with many architectural delights.
---
April 28, 2019 – Celebrating the Music of François Couperin (1668-1733)
Some comments from our friends who attended this concert
"We felt as if transported to Versailles. To hear the music that King Louis XIV heard as well was most memorable What a treasure we have in your group." (Les Amis folks)
"I found the combination of composer and chosen performance space to be exquisite; CVSL serves to help diversify the St. Louis music scene."
"In a day of English first, it's great to have a concert promoting diversity of language. Such multicultural events are beneficial in today's society."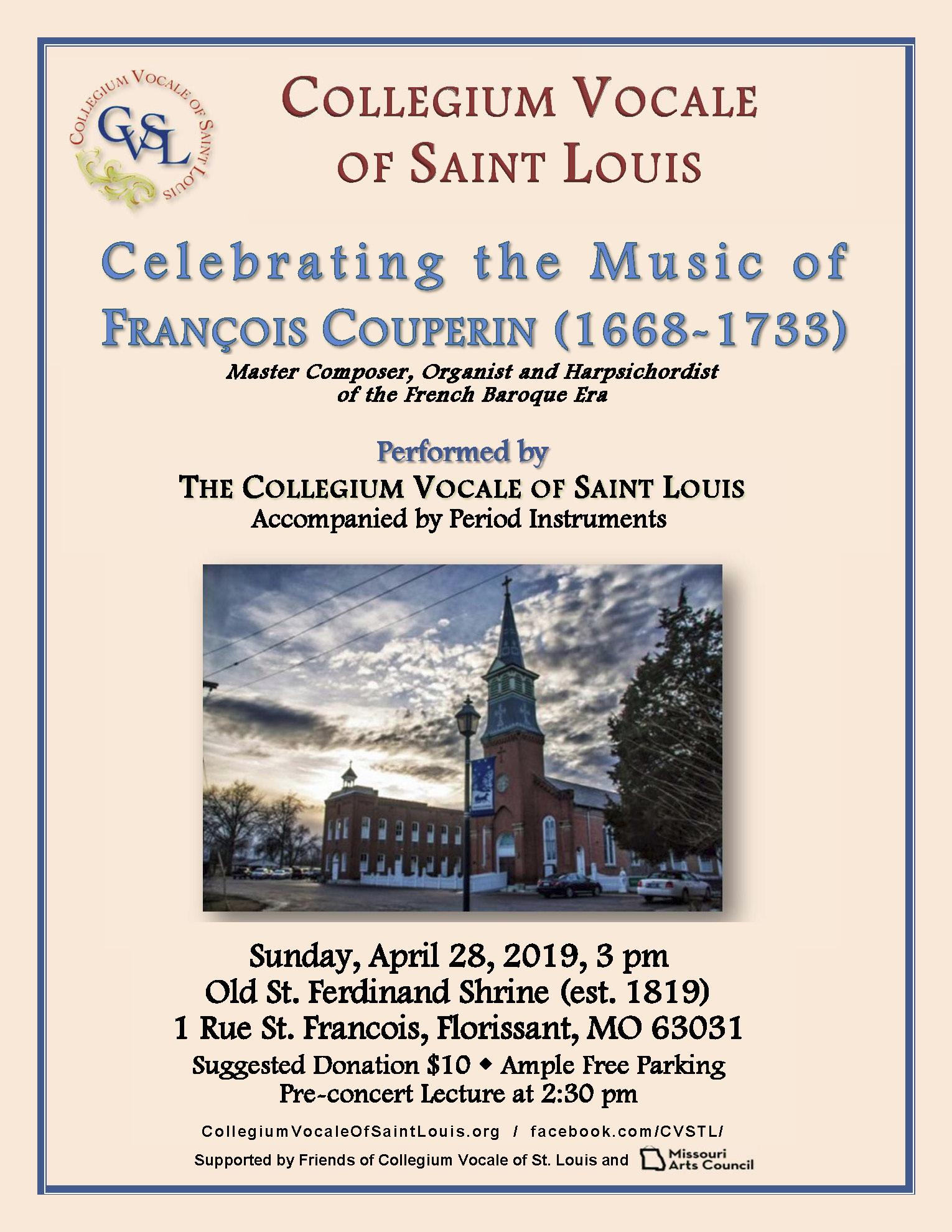 ---

Our recent concert – REJOICE AND BE GLAD !
Sunday, February 3, 2019

---
Photograph from our last concert, "An Abundance of Grace: Sacred Cantatas of J.S. Bach" – Sunday, February 18, 2018 at Trinity Lutheran Church, Soulard (Saint Louis, Missouri)